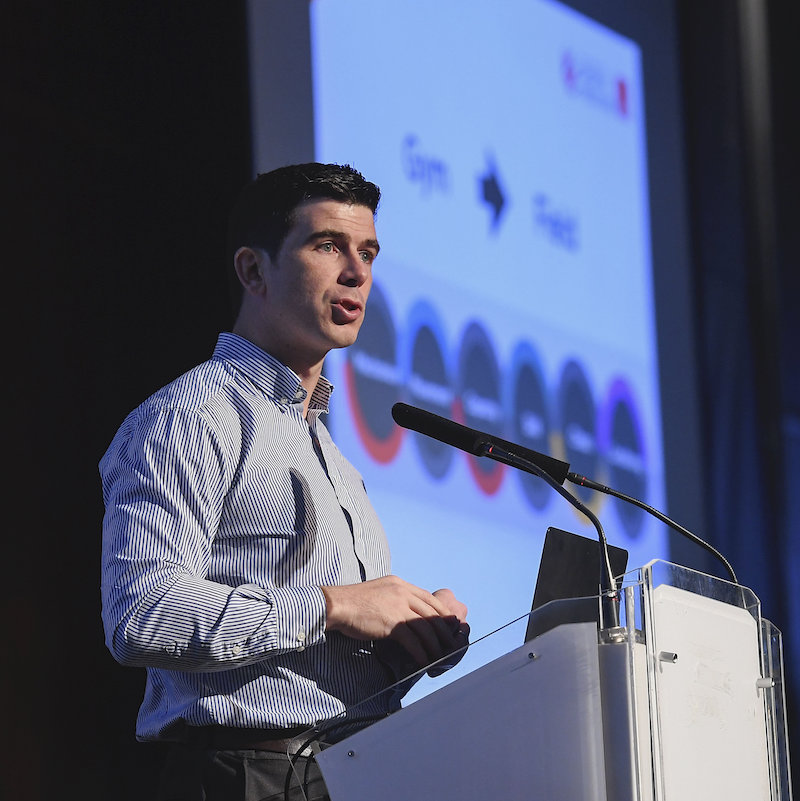 Bio:
Enda King PhD MSc has over 15 years experience working as a Sports Physiotherapist with athletes and coaches across a spectrum of sports and disciplines. Currently, he is Head of Performance Rehabilitation with Sports Surgery Clinic, Dublin, Ireland.
Enda completed his BSc (Hons) Physiotherapy degree in Trinity College, Dublin and MSc Manipulative Therapy in Curtain University in 2009. Graduating with distinction Enda returned home and has focused his work in the Sports Surgery Clinic in Ireland around cutting edge methodology for hip and groin injury prevention and rehabilitation. In early 2019 he completed his PhD through the University of Roehamption in London exploring the influence of 3D Biomechanical analysis on outcomes after ACL reconstruction. Through his base at the renowned Sports Surgery Clinic, Dublin Enda combines his clinical and research work through the use of 3D biomechanics and high-level residential rehabilitation to optimize performance and an efficient recovery after injury. He has worked with athletes and consulted for teams across a wide variety of disciplines including rugby, soccer, AFL, NFL, UFC, boxing, jockeys and GAA. His greatest areas of expertise lies within hip and groin related, as well as knee / ACL rehabilitation, and he is committed to performing innovative research to develop robust methods for injury prevention and rehabilitation in elite sport. Enda has over 20 peer-reviewed publications and regularly travels to speak at international conferences on groin injuries, ACL Return To Play and Return To Performance After Injury. Enda also authored the hip and groin chapter in "Sports Injury Prevention and Rehabilitation".
Show Notes:

Websites and Social Media Links: 

Website: enda-king.com
Website – sportssurgeryclinic.com

Facebook – Sports Surgery Clinic Santry
Twitter - @SSCSantry
Instagram – sscsantry


Books Mentioned:

Podcast Mentioned:

Pacey Performance Podcast #166 - Enda King (Head of Performance at the Sports Surgery Clinic)

Physioedge Podcast #032 How to rehabilitate ACL Injuries with Enda King

Physioedge Podcast #034 Advanced ACL Rehabilitation with Enda King

Sigma Nutrition Radio #194: Daniel Davey – Applied Performance Nutrition for Team Field Sports

OPEX Podcast: #065 - Daniel Davey Head of Sports Performance Nutrition w/ Leinster Rugby, CEO of Foodflicker


People and Resources mentioned:
Martin Kennedy

Trinity College
Curtain University

University of Roehamption

Raheem Sterling

Daniel Davey

Danny Lennon

David Pope
Al Vermeil

Jordan Peterson

Mark Manson

Pat Davidson

Lee Taft

Viktor Frankl 
Time-Line:

0:00 – 7:56 - Robbie intro's the show and asks Enda to about his background

7:57 – 15:47 - Robbie asks Enda about the process of individualising rehabilitation
15:48 – 23:09 - Robbie asks Enda if he feels that there can be an over emphasis on the biomechanical model within rehab?
23:10 – 31:55 - Robbie asks Enda about building trust and sustainability in the rehab process
31:56 – 39:23 - Robbie asks Enda about how an injury can lead to a self-identity crisis?
49:24 – 45:43 - Robbie asks Enda how his role at the sports surgery clinic has led to him attaining a deep sense of meaning
45:44 – 47:11 Robbie wraps up the show!